Barley Brigg are based in Yoxford in Suffolk, England. The side was formed in 1989 to perform morris dances in the North West tradition. We dance for your, and our, entertainment and enjoyment - mainly over the summer months and occasionally during the winter on Boxing Day and New Year's Day and at Christmas Fayre.
Our dancers and musicians come from all over East Suffolk, meeting 8-10pm each Wednesday evening during the winter at Yoxford village hall to learn new dances and practise old favourites in readiness for the summer. Click on Contacts to find out more about joining us at a practise session.
During the season, our pub evenings - generally on Wednesday nights during the summer - are convivial and relaxed affairs, with music and song in the pub afterwards.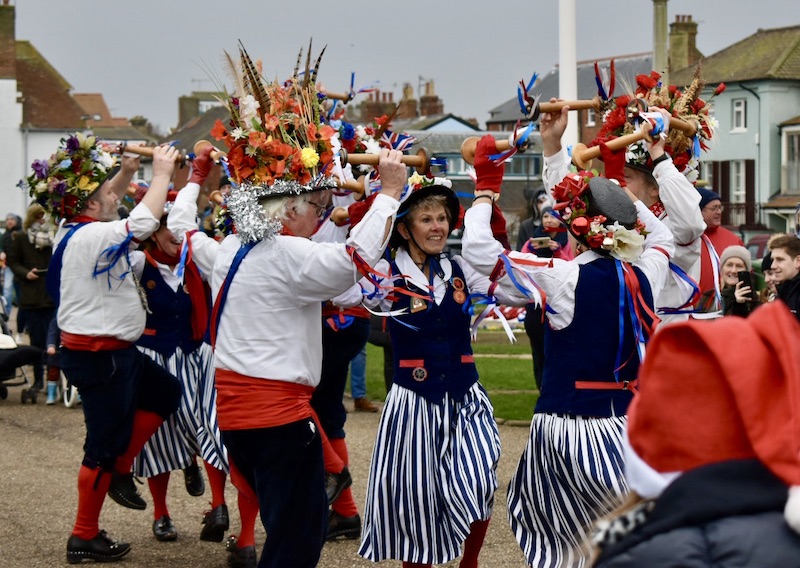 We also appear at a number of events - mainly in East Anglia but also further afield in England and some years we tour abroad. In 2012 we visited the Netherlands, based in Edam and danced at the famous Cheese Market. In July 2008 we performed at the Rättviksdansen folklore festival in Sweden and a few years ago we danced on the West Coast of Ireland, as well as Brittany and Bouchain in Northern France. We have performed at Folk East, the Wimbourne Folk Festival, the Rochester Sweeps' Festival, with the Lobster Potties in Sheringham and in many places around the country.
Costume
The costumes worn by Barley Brigg consist of red socks, blue breeches, white shirts, blue and red sashes, red and white neckerchiefs and top hats decorated liberally with flowers for the men; red tights or stockings, blue and white striped skirts, white blouses and black straw hats decorated with flowers for the women.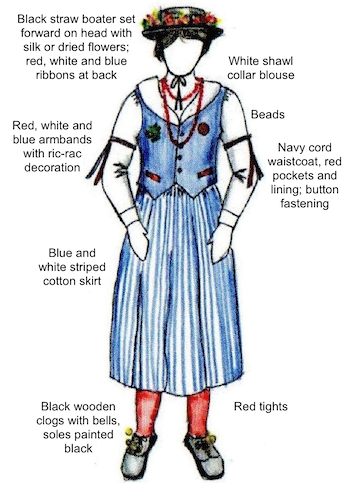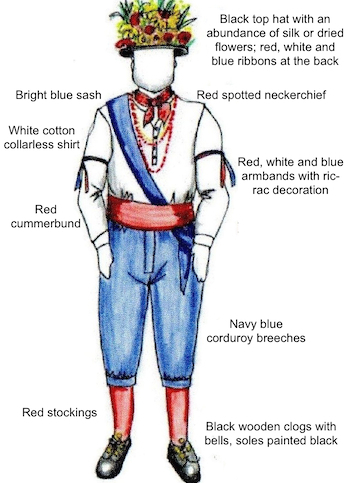 We dance with a variety of implements:
Ribbon sticks- sticks covered with woven red white and blue ribbons
Plain sticks- wooden sticks with ribbons pinned to the top
Wavers- short sticks with bells and ribbons
Bobbins- heavy wooden textile bobbins
Slings- cotton rope slings with weighted ends