For general enquiries contact the Squire: Janet squire@barleybrigg.org.uk
For requests for us to dance at an event, or for current bookings and dance venues generally, please contact the Programme Secretary: Rob
programme@barleybrigg.org.uk or 01728 638972 (evenings, weekends)
For music queries contact the Music Director: Ade
music@barleybrigg.org.uk
Website:
webmaster@barleybrigg.org.uk

Have a Go!
Why not come and join us? We meet regularly over the winter for a chat and a practice, adjourning to the pub afterwards. Then, over the summer, it's out and about at some great places, dancing and making merry. You don't need to be super fit - just a stout heart and a stouter pair of shoes will do. You are welcome to just turn up- Wednesday evenings in Yoxford Village Hall, 8-10pm from mid-September to April:
Yoxford Village Hall- Old High Road, Yoxford, Suffolk IP17 3HN -just off the A12 in Yoxford, north of Saxmundham
---
WE NEED YOU! If you would like to try it out, we start practicing for the season mid September, dancing out from May to July. We meet most Wednesday evenings. You are very welcome to just turn up at a practice evening any time You don't have to let us know in advance you are coming, but if you would like more information you can email Janet the Squire, or phone Rob, details above.
---
We're a friendly bunch and always enjoy meeting new people. Even in our spare time, we regularly do things together.
It's not all that strenuous but it will keep you fit. Our regular training sessions through the winter - not forgetting the pub afterwards - and the performances we give through the summer will do enough to tone up those muscles and improve your general fitness. And what better way to do it than with a group of friends.
We're always looking for musicians. No matter what your standard of playing, you'll always find a welcome - from melodeons and accordion to guitars, percussion or just about anything else, we'd love to have you along. Our current line up includes all of these plus mandolin, whistles, flute, and an occasional brass instrument.
One of the real pleasures of dancing is touring away from home. People are fascinated by us and we reguarly get large crowds watching us whenever we stop. Plus we get a great holiday!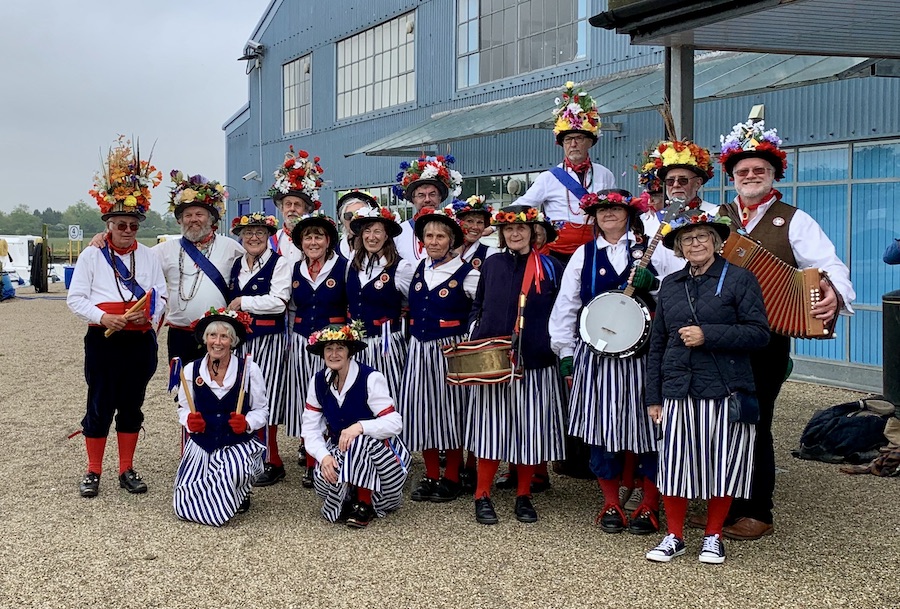 Broads Tour, Summer 2019