This is where we're going to be dancing this season, but keep checking as sessions may change and new venues will be added. If it's raining we'll probably be in the pub rather than outside it! Click on the name for details of the venue.
Scroll down to see notes on the dances we will be performing this season.
Date
Time
Where

Sun 29thApril

6.00pm

The Griffin Inn Yoxford

Sun 6thMay

Rochester Sweeps Festival

Wed 9th May

7.45pm

The Royal Oak Laxfield

Wed 16thMay

7.45pm

The Poachers Pocket Carlton (near Saxmundham)

Tues 22ndMay

7.45pm

Bear & Bells Beccles with Big Jigs

Wed 30thMay

7.45pm

The Fox Inn Darsham

Wed 6thJune

8.00pm

The Queens Head Bramfield

Wed 13thJune

8.00pm

The Crown Hotel Framlingham (Market Hill)

Tues 19thJune

7.30pm

The Locks Inn Geldeston with Big Jigs, Rumburgh Morris, Pretty Grim

Barley Brigg not now dancing at this event

Wed 27thJune

8.00pm

The Sweffling White Horse with Pretty Grim

Sat 7thJuly

Lobster Potties Festival, Sheringham

Thu 12thJuly

8.00pm

Moot Hall, Aldeburgh

NB Change of venue- the dance at the Lord Nelson Southwold postponed because of football!

Wed 25thJuly

8.00pm

The Low House (Kings Head) Laxfield withHoxne Hundred

Sun 29thJuly

2.00-4.00pm

Plough & Sail Snape Maltings, then to Orford castle and quay

Cancelled due to the weather

17th - 19thAugust

Folk East Festival, Glemham Hall

Sat 22ndSept

Green Dragon Day of Dance, Bury St Edmunds

Sun 14thOct

Cressing Temple Apple Day
Dances for this season
North-West morris dances are often processional, with a 'set' of eight or twelve dancers arranged in two lines, and called by the Dance Leader. A dance consists of a repeated chorus ('step-up') and four or five figures, with a dance-off to end. The figures are generally geometric patterns such as 'star' and 'crossover'. Steps tend to be march, polka or single step. Some examples below:
Rivington (Horwich Prize Medal Dance)
Danced with slings. An elegant dance with an easy step-up and mostly polka'd. Slings either whirling or on shoulder
Gisburn
Danced with ribbon sticks to a jig, with an exuberant 'swing-down' figure near the end.

Horbury Rushcart
A fine dance with a great tune- look out for the unusual starting position with men and women alternating positions down the set -those on the 'wrong' side are 'improper'. (Come to think of it, so are some of those on the right side....). A mix of polka and single step, with a couple of appearances of the Royton step. A bit energetic, this one!

Humphreys' Hooley
Unusual in that it is a circle dance. Written by dance leader Jill in memory of dancer and all-round fine chap John Humphreys.
Preston Royal
A jolly tune and a jolly dance with a recurring 'short corners' figure.
Millbrook
New for this year. An energetic step-up with a sort of backwards hop-kick, facing first up then down the set. Look out for the 'Lancashire Long Step' near the end.

Whitby Shindig
Each figure illustrates places in and around the town of Whitby, such as 'Flowergate', 'Abbey Windows' and 'Swing Bridge'.
Spitfire
A popular dance notable for the unusual shape of the set which denotes the wings and fuselage of a Spitfire! Danced with traditional wooden bobbins. The step is mostly polka'd. With thanks to John Hakeman of Knockhundred Shuttles who devised the dance.
Horbury Processional
Returning for this year. Taught to us originally by Trefor Owen. Notable for arms aloft and the clashing of sticks. Very aerobic, this one!
Lostock
A rather energetic dance which doesn't let up much! Ends with a Broadway-style high kicking figure.
Carr Lodge Polka
Sometimes performed as a mass dance when with other morris sides, usually causing some hilarity as the other side invariably dances to a different tune and with the figures in a different order with different names- this only becoming apparent as the dance is in progress. Cue end of session and a dash to the nearest bar.
Public dances- "resistance is futile"
Grenoside
Very elegant and easy country dance ending with a snaking figure to get everyone in a big circle. Not at all energetic, suitable for all!
Hindley Street Dance
Easy figures, with the final chain figure usually causing much hilarity, and started off with a rendition of Nelly the Elephant in an inappropriate key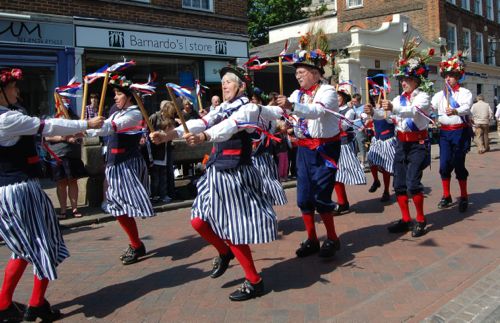 Dancing St Helens