Holiday on the Isle of Wight, July 2014
CLICK HERE FOR REPORT AND PHOTOS
---
Saturday 5th July
Sheringham - the Lobster Potty festival- a small side but a good day of dancing despite the weather being a bit dicey- the procession was rather blown along, and a huge downpour at lunchtime was the cue for an early lunch, but it then dried up allowing for some excellent dancing. Many sides present and lots of holidaymakers made for a really good atmosphere. Paul bought himself a new beer mug with a hole in the bottom, presumably a design feature to make you drink quicker.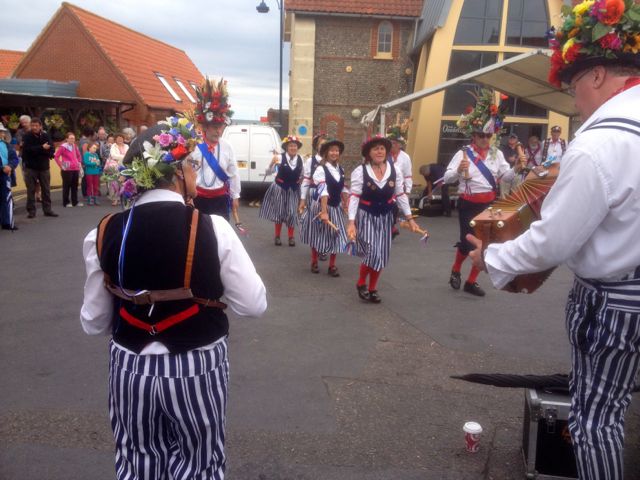 Lifeboat Plain, Sheringham
---
Wednesday 25th June
The Ship, Dunwich- always a good place to be because you can dance in the road and not worry too much about being mown down by passing traffic (there usually isn't any in Dunwich!).
A small but enthusiastic audience for whom the highlight was not Grenocide but seeing Paul in a heap on the ground after attempting to twizzle the wrong way during the step up in St Helen's while dancing as a woman. I think he survived!
---
Wednesday 11th June
The Plough & Sail at Snape- we outnumbered the audience, and unusually had more men than women dancing- in fact could have done a dance for 8 men if not for Martyn's foot!
---
Sunday 8th June
Aldeburgh- hot weather, and a large audience enjoyed a joint display by BB and Pretty Grim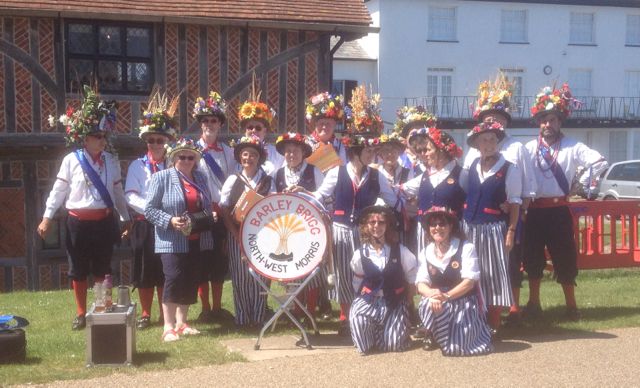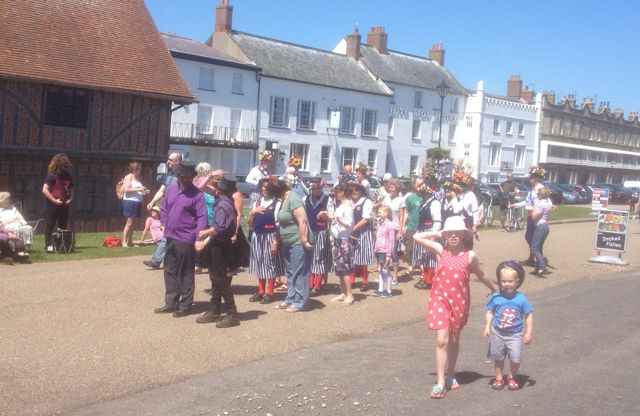 Grenocide about to start- with two escapees. Got them back in the set, though!

Pretty Grim
---
Saturday/Sunday 7th and 8th June
Our 25th Anniversary bash. There are two public dances over the weekend: 12pm on Saturday at The Griffin in Yoxford, and 12pm on Sunday at the Moot Hall, Aldeburgh where we will be joined by Pretty Grim.
---
Wednesday 28th May
The Sweffling White Horse. A good crowd of happy campers there to watch, and a good session in the pub afterwards. Thanks to Marie and Mark for their hospitality.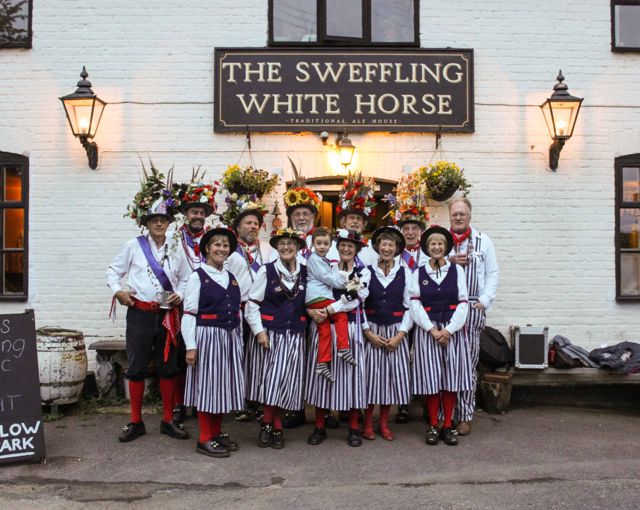 Bob's hat appears to have grown by some order of magnitude..
---
Saturday 17th May
A morning trip to Leiston Abbey in warm sunshine to do a few dances for children of the International Voices of Enfield choirs, there for the weekend. An appreciative audience who energetically joined in with the Hindley Street Dance and Grenocide, and as a reward got a potted history of North-West Morris and melodeon playing from Ade and Maureen. They'll all be flocking to join their local morris sides now... Pic to follow, hopefully
---
Wednesday 14th May
Dance-out at Huntingfield Arms- a good audience on the green and a good side turn-out. Grenocide danced successfully for the first time this season with unwilling victims enthusiastic members of the audience. The pub is always very welcoming and the landlord has some enterprising ideas for the village celebrations for next year's 800 anniversary of the Magna Carta.
---
Saturday 10th May
Thanks to Alive and Kicking for hosting an enjoyable day of dance in Witham, Essex. Four sides dancing in two locations, rounding off with a massed dance. Very impressed with whoever managed to organise the weather- we drove through torrential rain to get there and on the way home again, but the sun shone on most of the dancing! (See rain cloud creeping up on the last dance, below. Well done Esther and Janet for looking more ready to start than anyone else. The ones at the back were in the 99p shop.)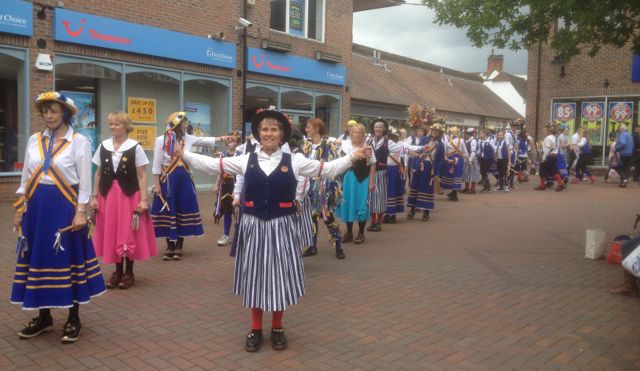 ---
Check out this link to the BBC website- BB at the Sweeps Festival- but a year or two back! We don't look a bit weird...
---
Wednesday 30th April
The Fox at Darsham- a lovely pub (first-hand experience of the Sunday roasts- excellent), great atmosphere with some Shanty singing inside. Happy birthday, John!
---
Wednesday 23rd April
St Georges Day- first proper Dance-Out of the season at the Sibton White Horse. A little chilly but good audience. I suffer major wardrobe malfunction during one dance but probably no one noticed....