The Brigg Blogg... 2019
...or some of the things we have been up to recently
26th December 2019- Boxing Day at Aldeburgh
Wet, windy, and JOLLY CHILLY! But at least we weren't as damp as all the hardy souls who had been swimming.
It was brief but fun- we managed three dances to an appreciative and shivery audience, and very good dancing it was too.
Photos courtesy of Bethany and her new camera kindly supplied by Father Christmas. See most of you at Snape in a few days!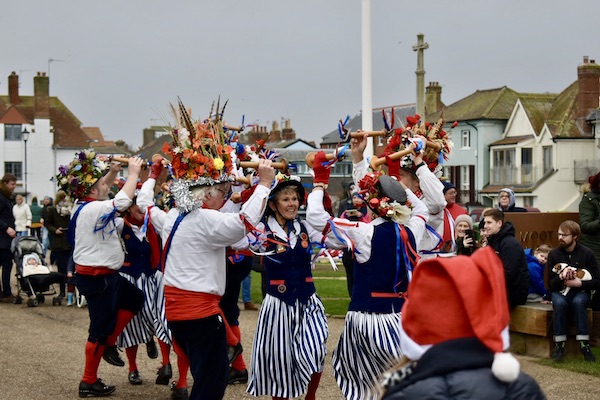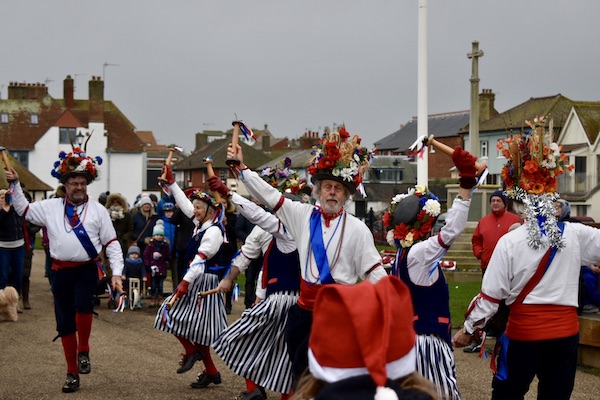 ---
14th September- Golden Star in Norwich
A super day in Norwich and a good way to round off the season- with thanks to Golden Star for the fantastic organisation.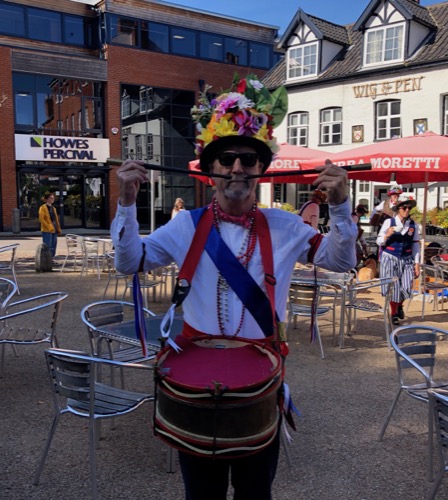 Ni at the ready in Norwich
---
16th-18th August- Folk East
Folk East continues to grow in strength as a festival and we had another good weekend here, which included a memorable trip out to the Ship Inn at Blaxhall.
---

Musos in Lavenham

19th-21st July- Anniversary weekend in West Suffolk

A great weekend organised by Martin and Annie and a fitting way to celebrate 30 years of Barley Brigg.

Camping at the White Horse in Edwardstone- a super pub, very friendly with a great selection of ales.

Dancing at Lavenham outside the Guildhall, Sudbury market, Kentwell Hall, and two spots at the pub.

The weather was fantastic, audiences appreciative, and it is fair to say a good time was had by all!
---
Barley Brigg 30th Anniversary print

Ni has produced this fantastic print to commemorate our 30th anniversary. The artwork and the production are truly stunning.

They are handmade original screenprints made as a collaboration between Lesley Fennel the artist, Edwin Mitchell-Finch the graphic designer and Ni the printmaker.
They have been made as a small edition of just 40 and signed numbered and dated by each of them.

They can be ordered from Ni framed or unframed, £60 or £35
---
Wednesday 5th June- Poachers Pocket

It threatened, and indeed did rain, but we managed several jolly dances before it got properly wet, including a rendition of Grenoside. Highlights included Ade in his cling-film garb and Phil getting his dancing cock hen out (careful... )
---
Wednesday 22nd May - Royal Oak, Laxfield
Warmer weather made for a pleasant evening in this lovely pub in our erstwhile home village of Laxfield. Some good dancing, a spirited rendition of Grenoside, and Phil entertained with his little chicken (when did that appear??!). Many thanks to the landlord for hosting and especially for a generous round of sandwiches afterwards!
A week's break for half term, then to Bramfield Carlton- Poachers Pocket - on the 5th June.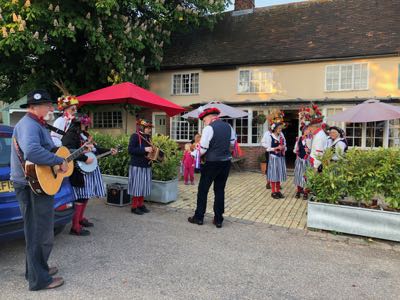 ---
Sunday 19th May - Norfolk Broads
A super day afloat for the Briggers.
An early start to get to Potter Heigham at 8.45am. A sea mist and uncertain weather forecast meant a chilly start as we collected 3 rather swish picnic boats from Herbert Woods and set off downstream, boats skippered by Martin and Annie, Ni and Di, and Rob and Helen. The sun broke through as we meandered down the river and a very pleasant morning was had, sailing in convoy down to South Walsham, with brief stops to spot birds and other wildlife. Confirmed sightings: grebes, herons, red kites, cuckoo and the possiblity of a Chinese water deer (had to look that one up..)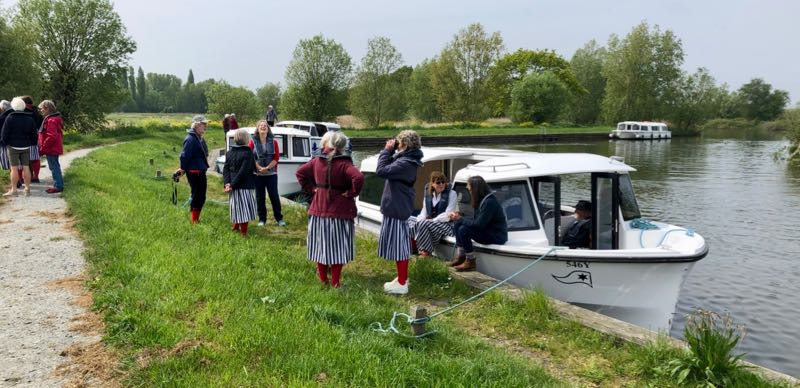 Then a gentle chug back the way we had come to moor up in Thurne Dyke, at the end of which is the Lion Inn, clearly a very popular pub. Our first dance spot over the road from the pub by the dyke, and a number of successful dances including Grenoside for the first time this season. We then retired to the pub for lunch. It was a tad unfortunate that the clouds had appeared and rain looked likely, so that the chap who had been booked to sing outside was now inside, at the same volume as he would have been outside, making conversation over a very nice lunch a little tricky.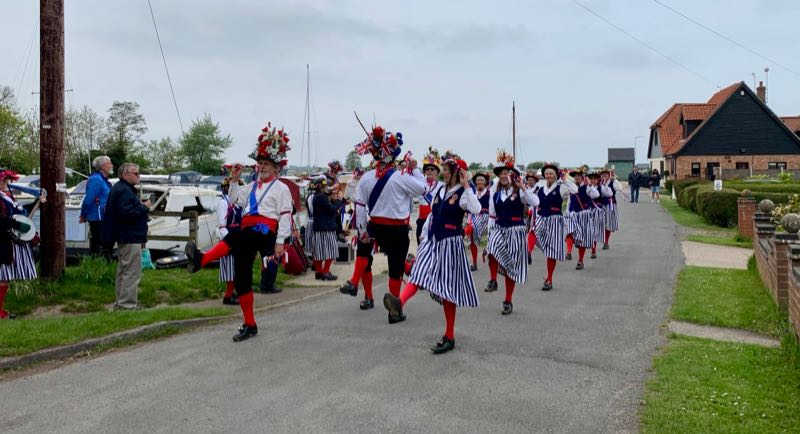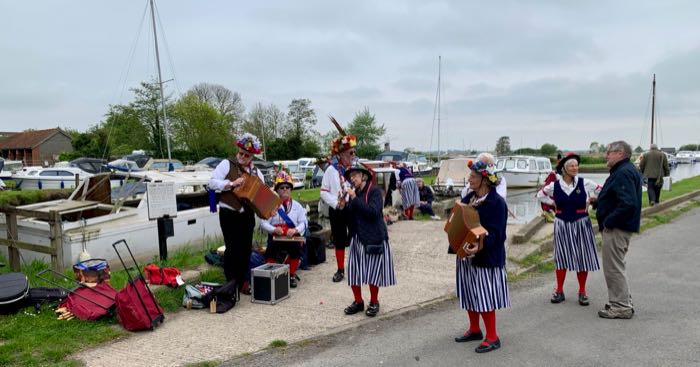 Back to the boats for a final hour-and-a-half on the River Thurne. Our boat and Ni's boat headed up to Womack Water near Ludham, a very pretty part of the river, while we cracked open the strawberries and Prosecco. Entertainment and scientific enlightenment was had from Ade putting blueberries in his glass of prosecco and watching them oscillate.
| | |
| --- | --- |
| | Ade's famous Oscillating Blueberries |
Back to Herbert Woods where we did a quick couple of dances to the remaining staff and customers, braving the by now rather chilly weather. Thank you to Herbert Woods for supporting us with the day, the staff there coped admirably with a lot of strangely dressed Morris dancers.
A short drive to Winterton-on-Sea for our final stop at the Fishermans Return pub. Unfortunately the rain that had threatened for most of the afternoon duly arrived but we were still able to get in a few squishy dances by moving a table or two in the pub's new extension and dancing inside. Particularly nice to see Janet and Lesley perform a step dance. This was followed by a meal for some and home.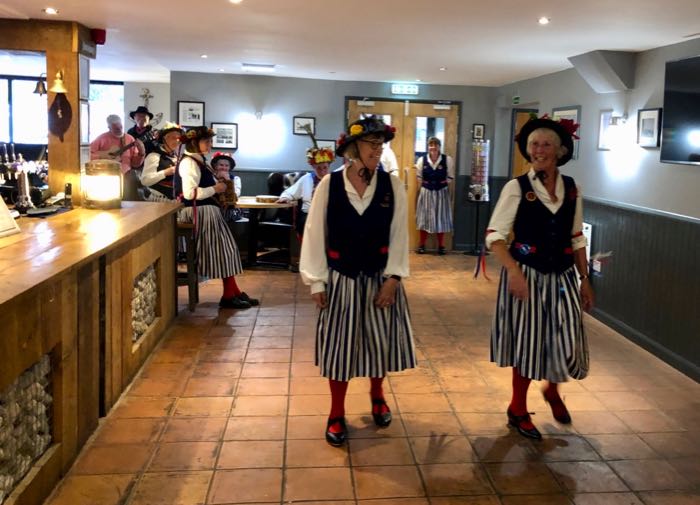 Thank you, Martin for organising the boats, venues and meals, and to all for your company.
---
Wednesday 15th May- Fox Inn, Darsham
The Fox is a great pub! Everybody go there! They always do us proud with huge plates of sandwiches and chips after dancing. Thank you!
We had a good dance session, managing to get through very nearly our entire repertoire for the season. 'Rivington' needs a bit of work (slings all over the place) but apart form that, all very successful.
Evening rounded off with a session in the pub. All very fine after the disappointment of missing Laxfield the previous week because of the weather. Looking forward to the Broads day out on Sunday.
---
Sunday 5th May 2019 - White Horse, Westleton
A lovely start to the season- very jolly, good dancing and a good meal afterwards. 2019 season up and running! Next up is The Royal Oak, Laxfield on Weds 8th